Our expert list down the top 10 merchandise that must be owned by all Trinitians. From Key tags to mugs to Stickers , these are the most sought after Trinity College inspired merchandise.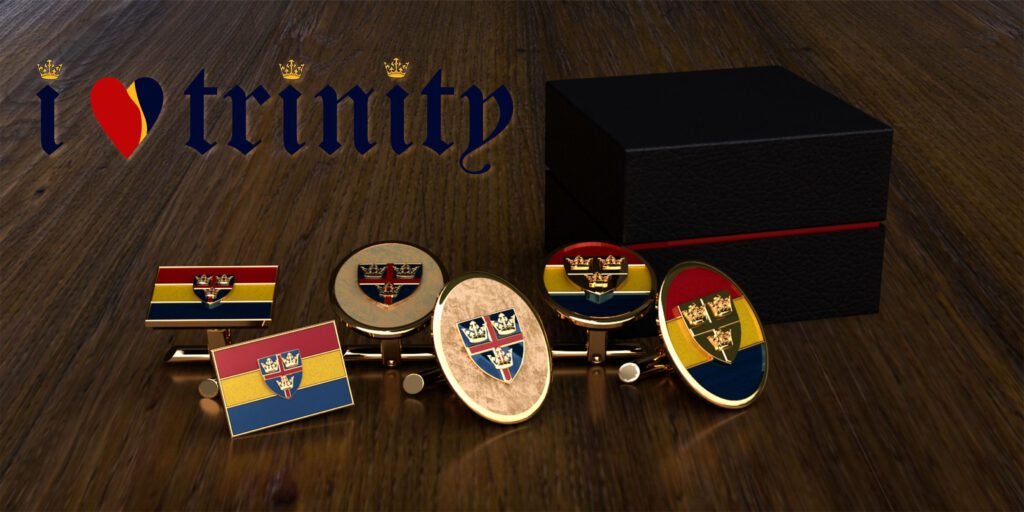 A cool car sticker is a great way to show pride of Trinity. Show your school pride by using this car sticker with the TCK crest for car windows or even home windows. makes it a great supporter product for those who wishes to show the school spirit throughout the year.
Product Features- non-toxic print, College crest mirrored design, strong adhesion sticker
A notebook curated especially for Trinitians, for the T150 anniversary. Makes it a great gift or a perfect T150 memorabilia.
Product Features
10.5″x7.5″ size
160 pages
Single rule
premier quality paper
Foil printed logo and commemorative words
360gsm hardcover
A milk white glass mug with the T150 logo and the TCK logo, which is great to enjoy your favorite beverage while reminiscing about Trinity college. Makes an ideal gift for loved ones.
Product Features
Glass material
T150 logo
TCK logo
This large (75*120mm) fridge magnet is inspired by Trinity College colours and is a great addition to your TCK collection – Makes an excellent gift for fellow Trinitians, or for you to showcase your proud lion blood. These magnets are suitable for magnetic surfaces while you can use them to hold memo notes or list.
Product Features
High quality magnet in 75*120mm size
Suitable for any iron surfaces – refrigerators, magnetic boards, steel cupboards etc.
Excellent gift for Family and friends
Make memos notes and lists more visible.
LARGE GOLF UMBRELLA: 27X26 diameter is big enough to provide protection, perfect companion for outdoors activities.
WINDPROOF & WATERPROOF: Double canopy design prevents umbrella from inverting during high winds and you won't be blown away easily; fabric is water repellent and quick to dry, protecting you from heavy downpour.
DURABLE CONSTRUCTION: sturdy shaft and ribs not only make this umbrella durable and lightweight but also provide extra safety. The canopy is created using chain stitching to provide strength.
A great way to show your school pride and also love for TCK rugby, this cute bobblehead ornament looks great on office desks, home ornament carboards and even for cars. Great souvenir or a gift for a Trinity gentleman.
Product Features
non-toxic resin
hand-painted
bobblehead design includes small parts
A TCK crest Keyring which is an unique, affordable and fun gift. The key ring is in silver coloured metal with a printed insert glued into the front. made from materials that are long lasting, durable to ensure long term usage.
Product Features
Metal
A great way to show love and support for Trinity college, Kandy- a TCK inspired commemorative coin that makes a great souvenir and a gift for the gentleman of Trinity.
Product specifications
Zinc alloy soft enamel with chrome plating
Show your pride with this cute car ornament that can be hung on windows or review mirrors. designed to look as a rugby jersey, it is a perfect gift for car enthusiasts. Can be installed within seconds and no adhesive or tools are required to do so.
Glass Paper weight-T150 limited edition
A glass paperweight with the T150 logo, which is great for any office or study space. Makes an ideal gift for loved ones.
Product Features